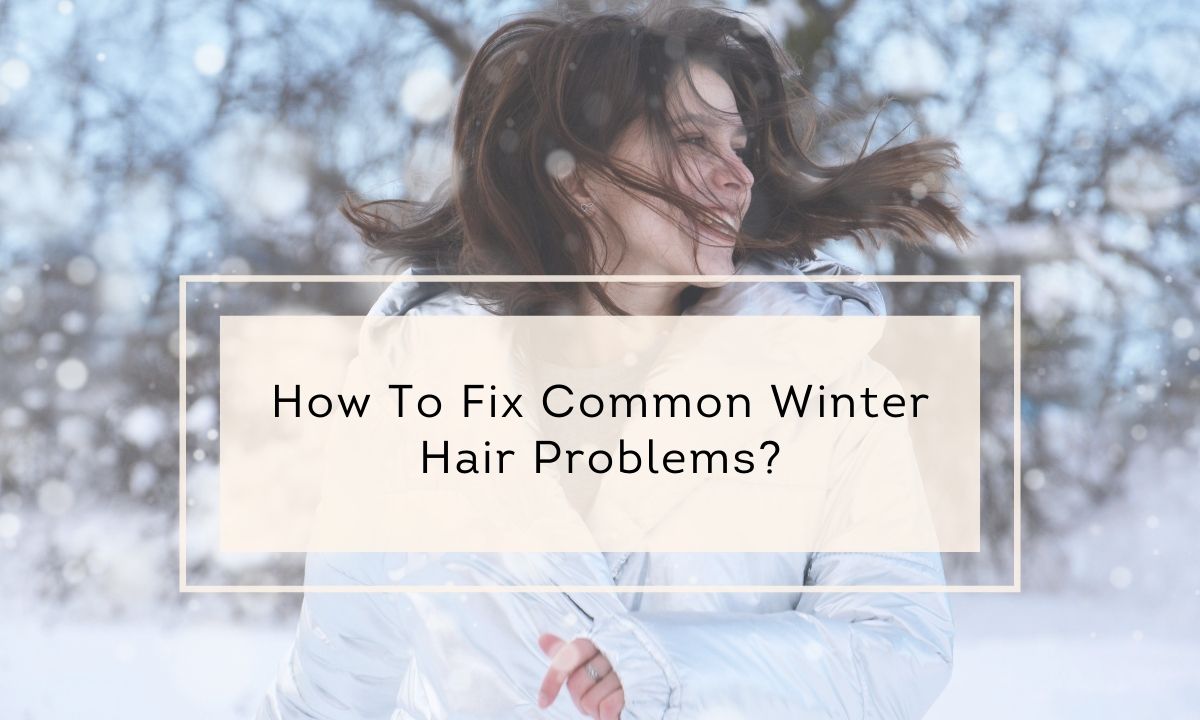 Struggling With Common Winter Hair Problems? Here Is The Solution
Finally, the winters are here. A happening season to enjoy hot cocoa with marshmallows, fireplaces & many more things. But when it comes to hair, it's not that happening!!! It can invite a host of unwanted hair problems for you including static frizz, dandruff, split ends, and dry, tight & itchy hair. But, don't worry.

To help you get through this season without turning into Ms. Stay-at-home, here we have listed common winter hair problems and different ways to combat them. Here they are as follows:


How To Fix Common Winter Hair Problems?
Hair Concern 1.
Dry And Itchy Scalp - Just like our skin gets dried in cold breezy winters from indoor heating and drier air, scalp skin does too. As the scalp lacks moisture, it is common to feel it tightening and even itchy, especially if you have dandruff already. It may further cause split ends and damaged hairs, skin dehydration, and flaking.

Solution -
The best way to cure this issue is by providing proper nourishment to hair. Massage your hair with natural hot oils like olive oil or coconut oil. It will help lock moisture, stimulate blood circulation, and enhance hair texture. Wash your hair thoroughly with a mild shampoo. Avoid sulfate-based hair products and use customizable shampoos and conditioners with active ingredients like tea tree or lavender. Also, stop using heat tools & hydrating products that will further dry your hair.

Hair Concern 2.
Split Ends - An excessive use of blow dryers can cause split ends and flyaways due to dehydration. Though this can happen any time of the year, winters are more likely to dry out & brittle hair.

Solution - The very first thing that you need to do is to reduce your use of hair drying products & styling tools. Invest in some quality hair tools to combat damage & breakage. Plus, trim your hair at regular interval levels.

Hair Concern 3.
Static Flyaways - When the temperature drops down, the chill & dry air can cause your hair to pick up an electric charge, leading it to stand up. You may want to brush up your hair but it is only going to make the situation worse.

Solution - To combat the situation, all you need is an extra shot of moisture. Try hydrating & customizable hair shampoos & conditioners that can lock essential moisture to your hair and eliminate dry & dehydrated skin. It helps leave your hair softer, smooth, and supple. Apply a pump or two and say goodbye to those flyaways!!!

Hair Concern 4.
Matted Hairs - If you love wearing cozy sweaters, hats, or warm scarves in winter to protect them from cold air, you might struggle with the tucked strands into them. This could lead to the matting of hair.

Solution - The simplest and the best way to avoid matted hair is to braid your hair or put your hair into a bun to keep all strands contained in one place and tangle-free.

Hair Concern 5.
Straw-Like Hairs - Similar to static hair, when the moisture level in the temperature goes down, the hairs tend to become dry and brittle. You may feel hair like straw and it can also cause rough hair cuticles.

Solution -To combat the situation, you need to switch to hydrating & natural hair shampoo & conditioners that can give your hair essential moisture and make them soft & smoother. Look for clean & sulfate-free hair products with nourishing ingredients like coconut oil, avocado oil, and aloe vera, etc. Apart from this, cut out your use of hot tools and let your hair breathe naturally!!!

Other common hair concerns include frizzy hair or dandruff, weaker strands, etc. The key to solving all these winter hair problems lies in nourishing & moisturizing your hair. Exfoliating & clarifying your scalp is also essential.