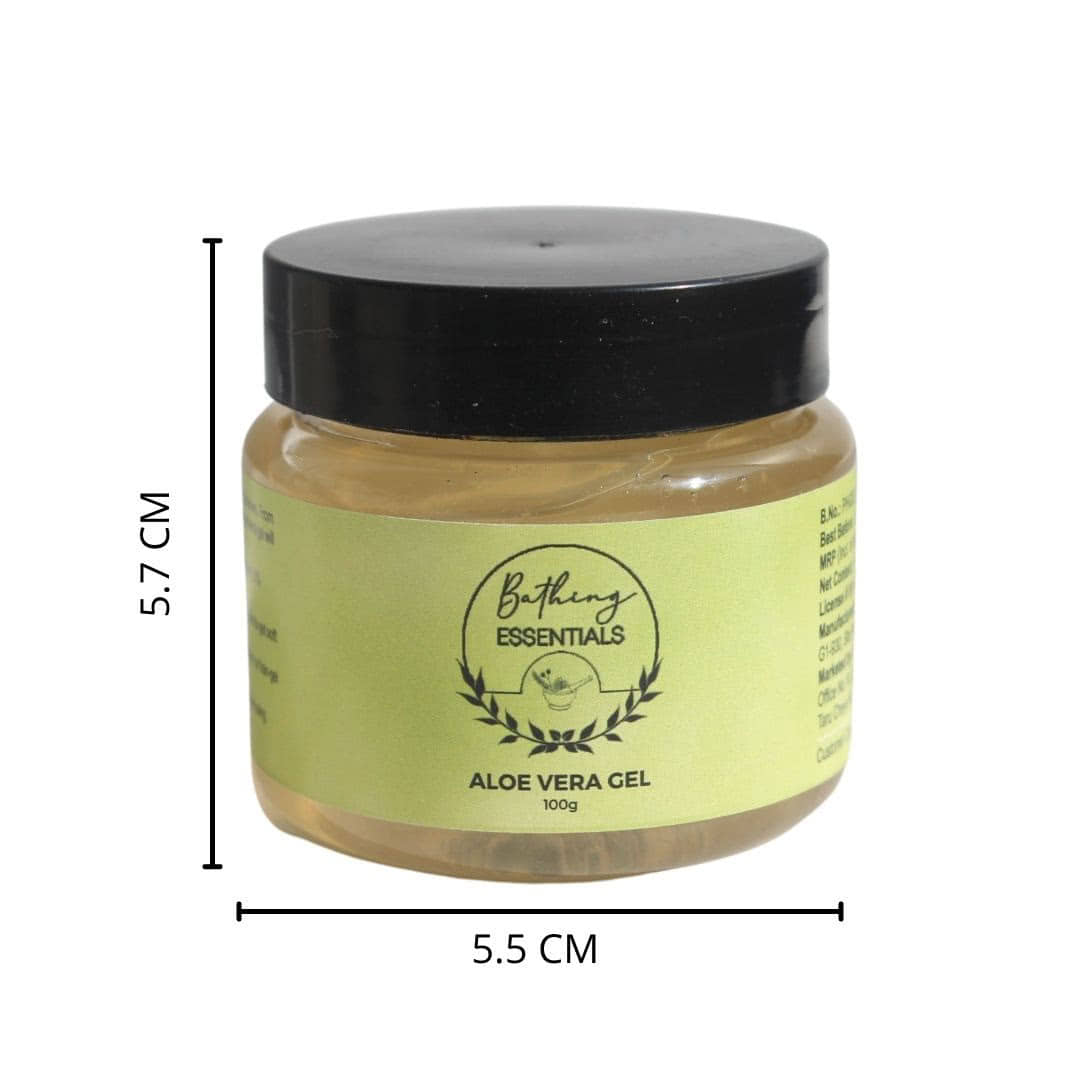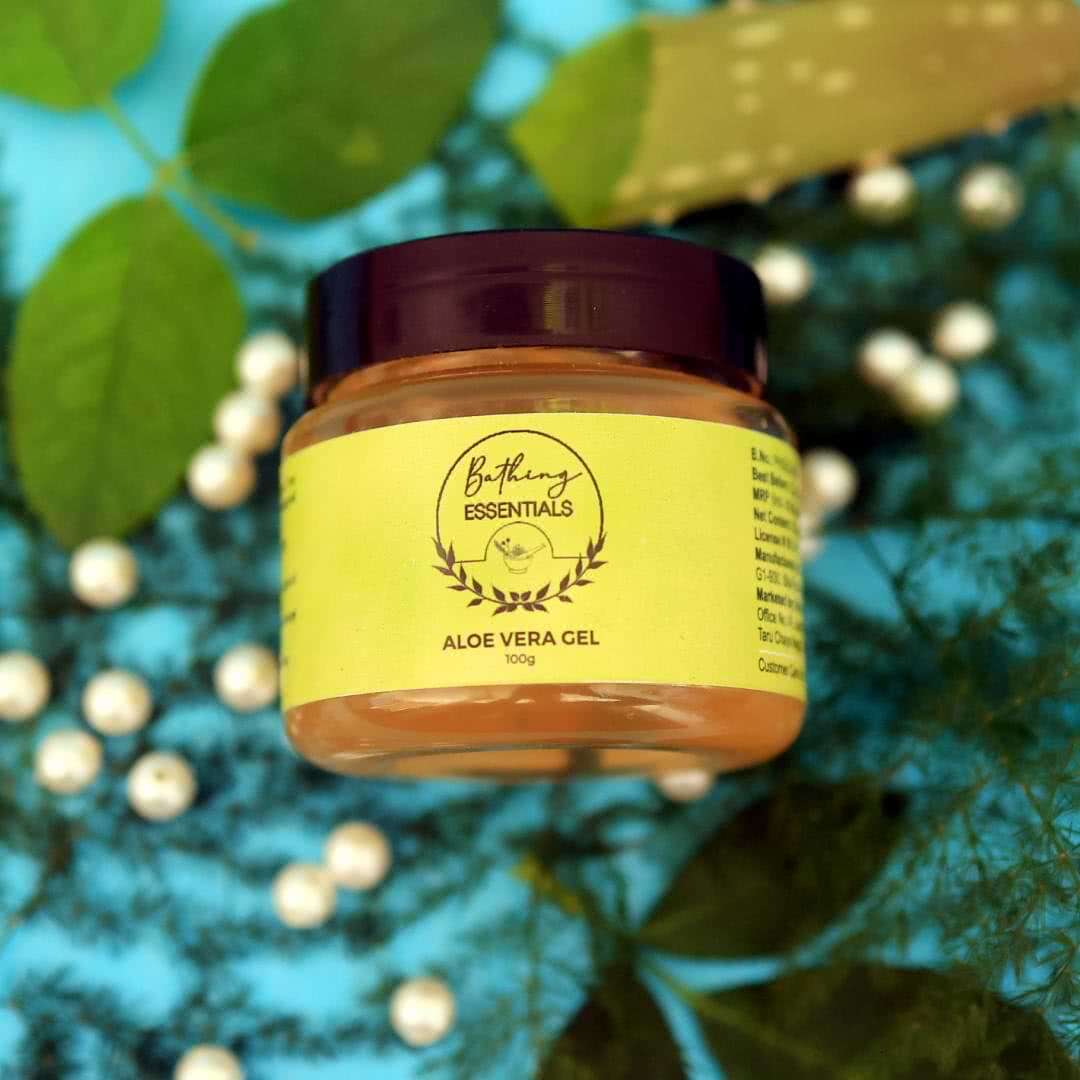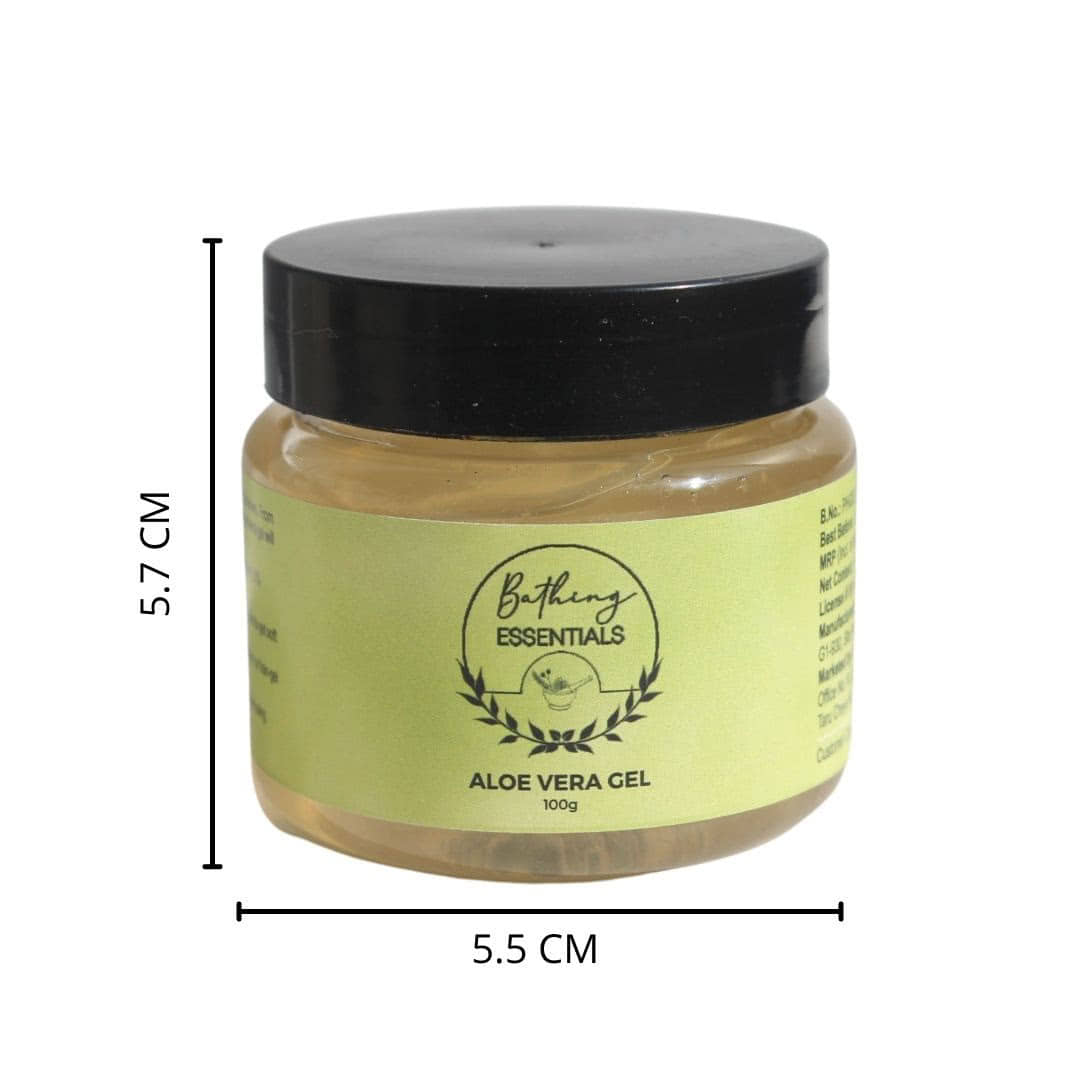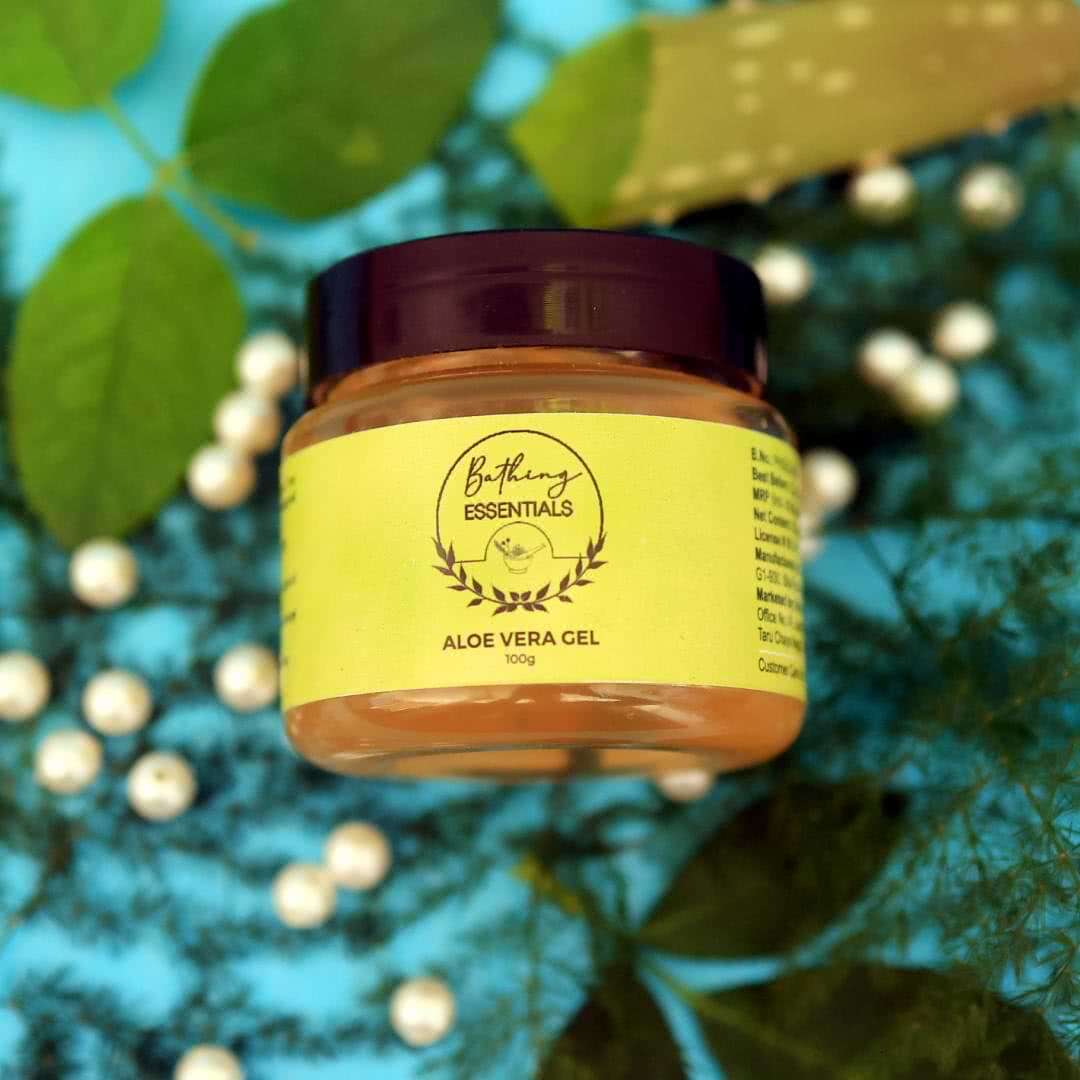 Bathing Essentials Aloe Vera Gel — For Healthy Hair and Skin
Heavenly nourishment for your skin and hair
Our 100% pure organic Aloe Vera Gel is a miracle product that you can apply to both your skin and hair.

Rich in vitamins and minerals, it boosts hair growth, reduces hair fall and fizz, and acts as a great conditioner that provides smooth and shiny hair.

It also works as a hydrating agent which nourishes the skin, enhances the glow, and reduces acne.

One product for all skin and hair care problems!
Returns/Refunds

The product can be returned within 15 days of delivery.
Key ingredients

Aloe Vera Extract, Cucumber Extract, Green Tea Extract, Vitamin E, Rose Water, Vitamin C
Who can use?

Suitable for both men and women
How to use?

For Skin:

Step 1 — Take an appropriate amount of aloe vera gel and gently apply/massage it on the face and neck.

Step 2 — Let it dry and leave it overnight for a brighter and smoother skin.

For Hair:

Step 1 — Take an appropriate amount of aloe vera gel in your palm and massage gently on the scalp & hair.

Step 2 — Wash it off after some time or keep it over a day as a hair nourisher.
Committed to your health & safety
Hit the "Buy now" button

The ordering process of Bathing Essentials Aloe Vera Gel is super simple. Just click the "Buy Now" button, and then you're good to go!

Get your product delivered @ your doorstep

Within 48 hours, we ship your aloe vera gel and you get it delivered to your doorstep within 7 days of ordering.

Level up your skin & hair care routine

You start achieving all your hair and skin goals with our gel's gentle formula that's made keeping all your hair and skin care requirements in mind!
Reasons you'll love us!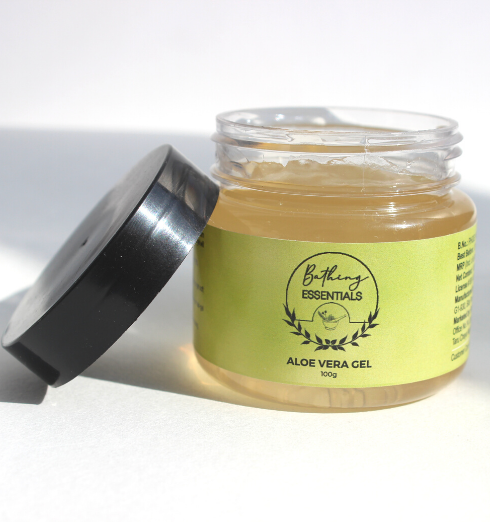 Crafted just for you
Every one of us has a different skin and hair type and struggles with different skin problems.

Our gel is made keeping everything in mind: from boosting hair growth to hydrating your locks and from nourishing your skin to enhancing the glow — we've got you covered.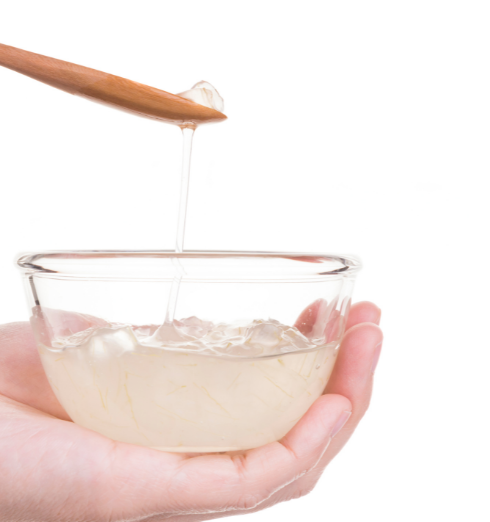 No harmful components
We're super picky with the products we use and we believe beauty should be both safe and natural.

We use special ayurvedic ingredients that nourish your skin but are free of harsh chemicals, strong fragrances, sulfates, and parabens.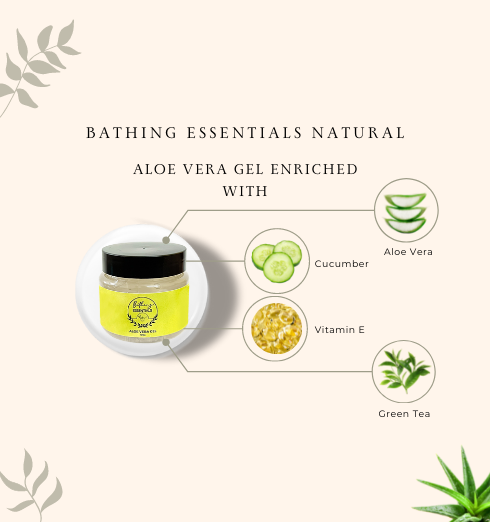 Great for you + our nature
We have a greener approach to our products and understand the importance of being eco-friendly.

Our product is made from 100% natural ingredients to ensure it's gentle on your skin and kind to the planet — making sure you have a guilt-free day.
Elements that make it "Your Essential Aloe Vera Gel"
Aloe Vera

- Moisturizes the skin
- Fights skin-ageing
- Strengthens and Repairs hair strands
- Controls greasy hair

Cucumber Ext

- Hydrates and Moisturizes the skin
- Reduces dark circles & Treats dull skin
- Combats dryness of the scalp
- Strengthens hair follicles.

Rose Water

- Cleanses the skin from within
- Prevents acne and blemishes
- Reduces oiliness and dandruff
- Fights against frizziness
Green Tea Ext

- Reduces redness and Soothes the skin
- Prevents acne and unclogs pores
- Helps in the hair growth
- Increases blood circulation of the scalp

Vitamin E

- Stops skin from losing moisture
- Prevents and treats dry, flaky skin
- Helps prevent hair loss
- Adds shine to the hair

Vitamin C

- Boosts collagen production
- Helps in healing wounds more quickly
- Reduces hair loss
- Improves hair growth
Some happy reviews from our customers!
Questions? We've got you covered!