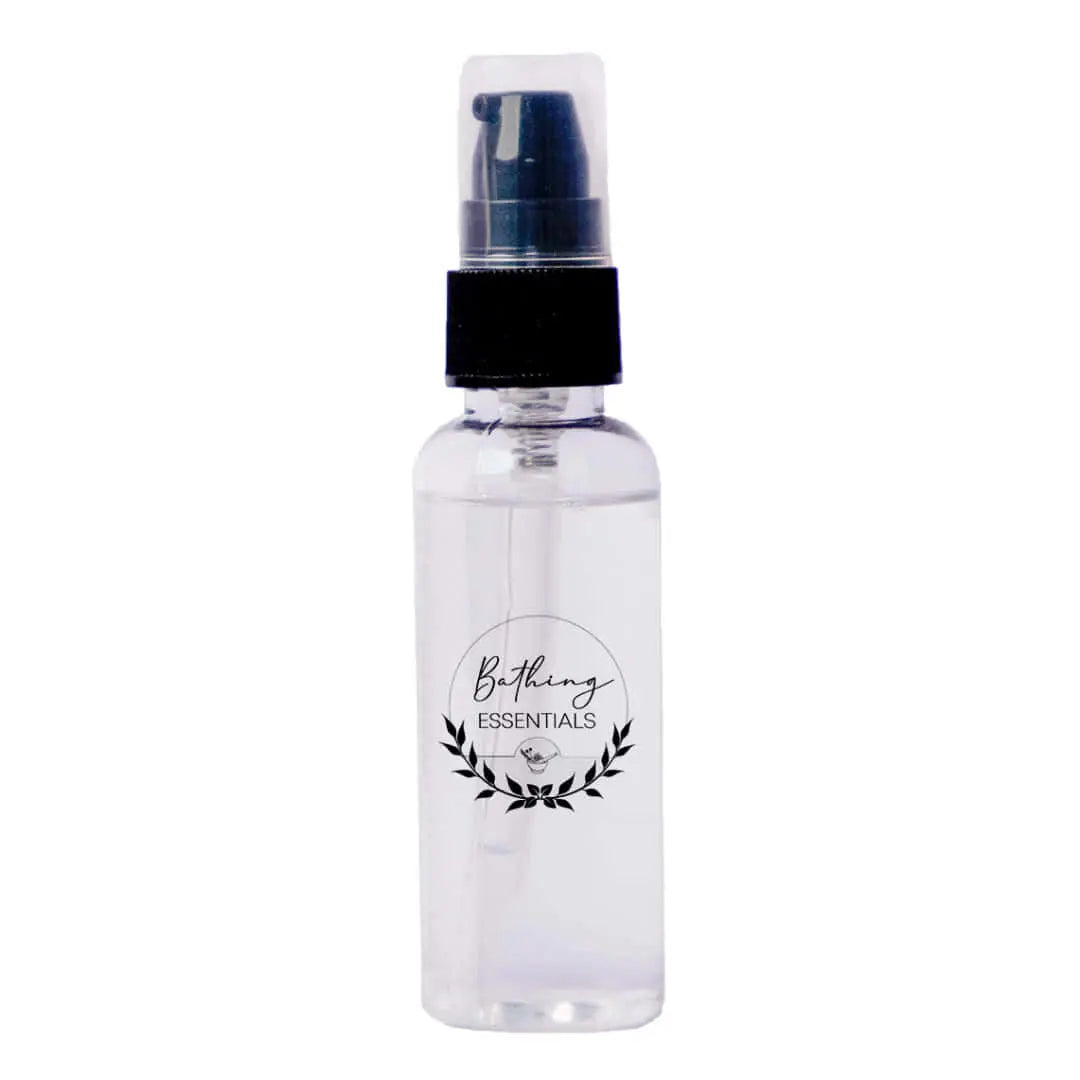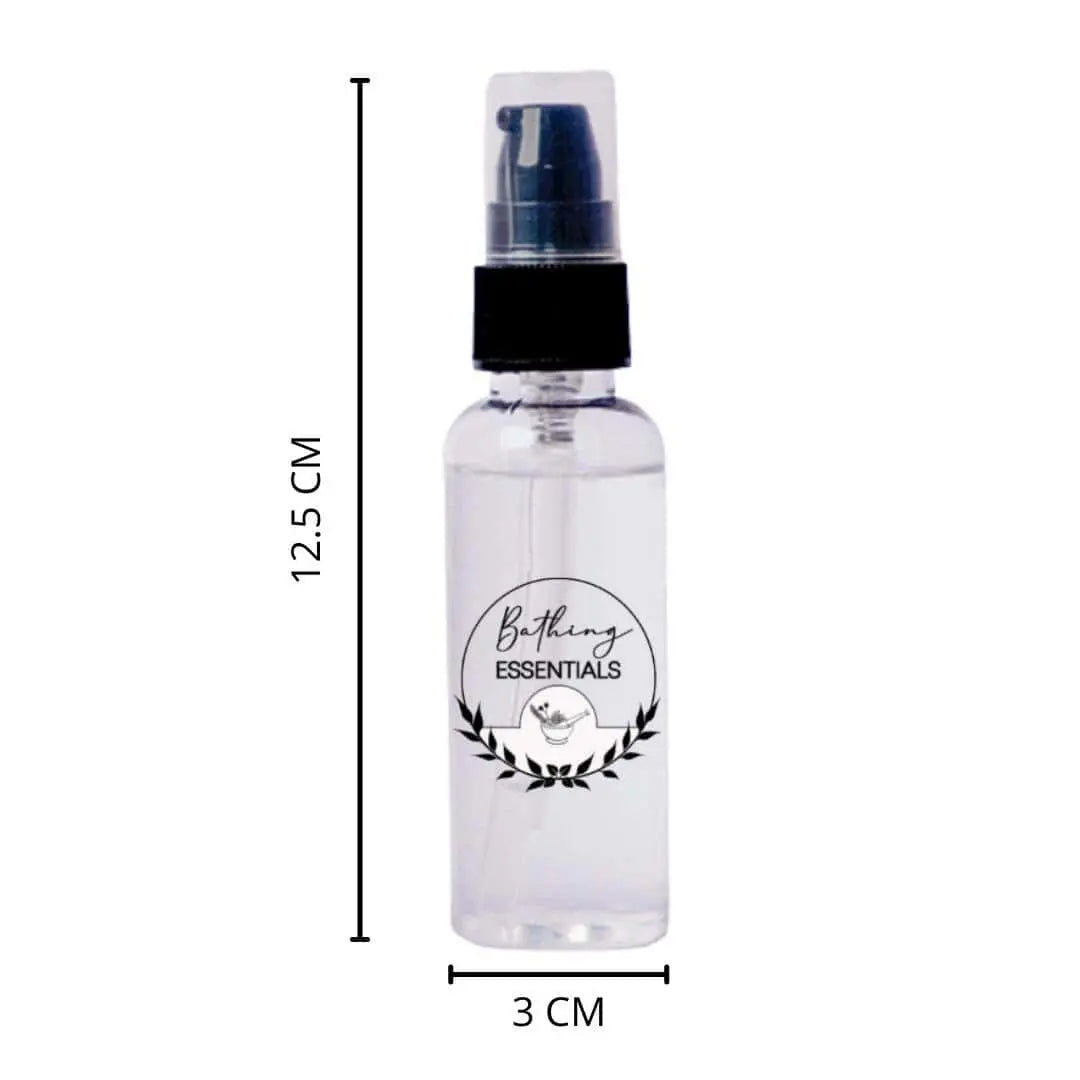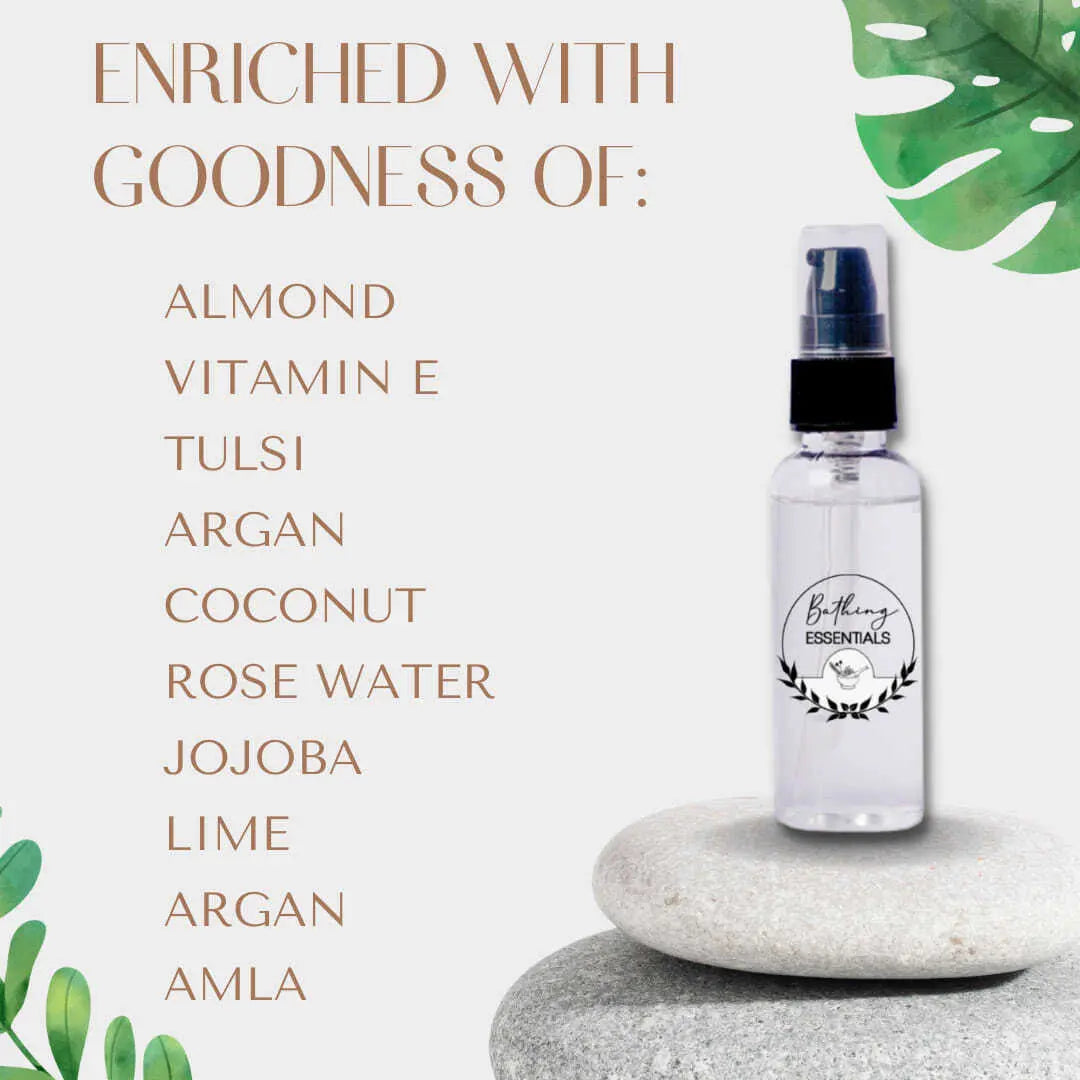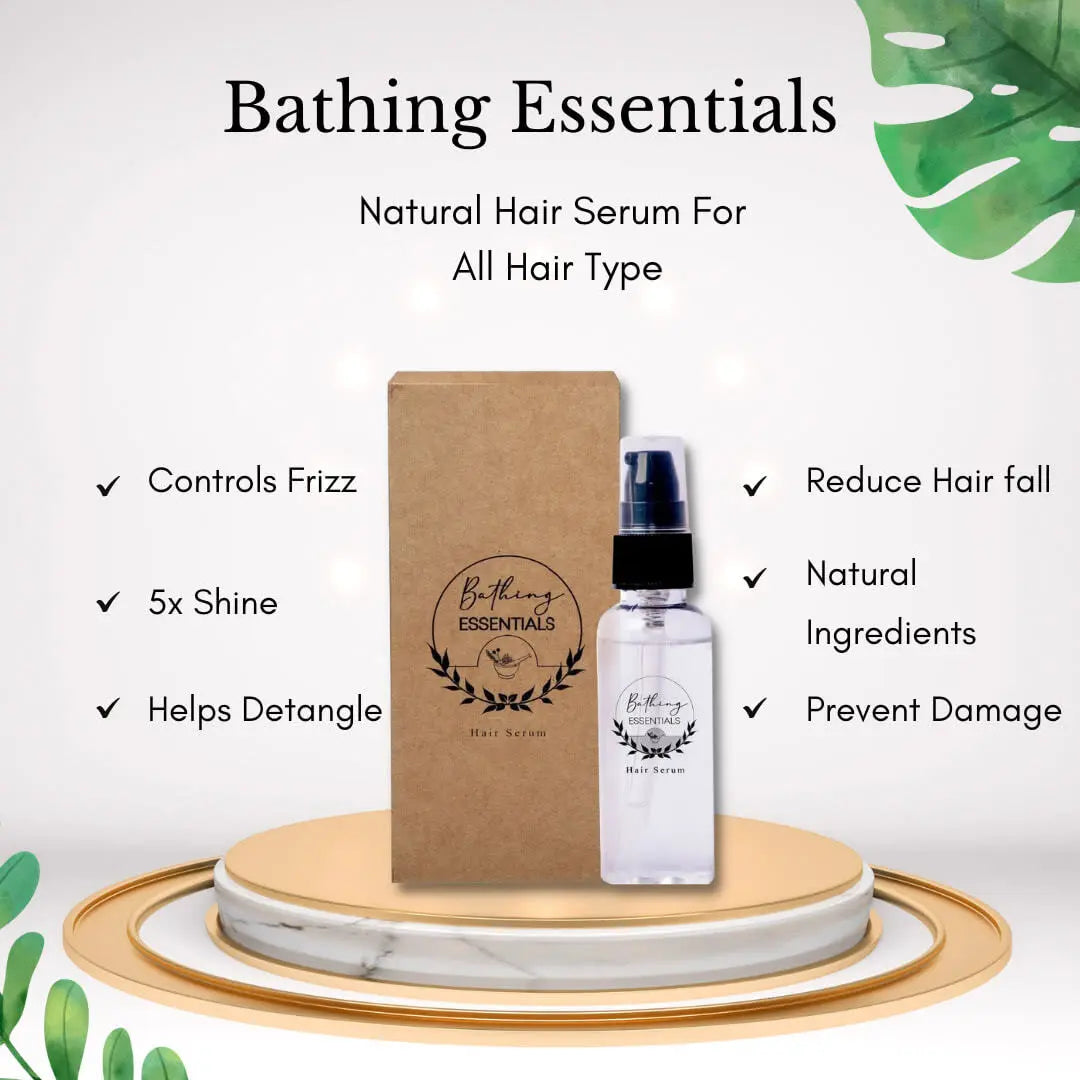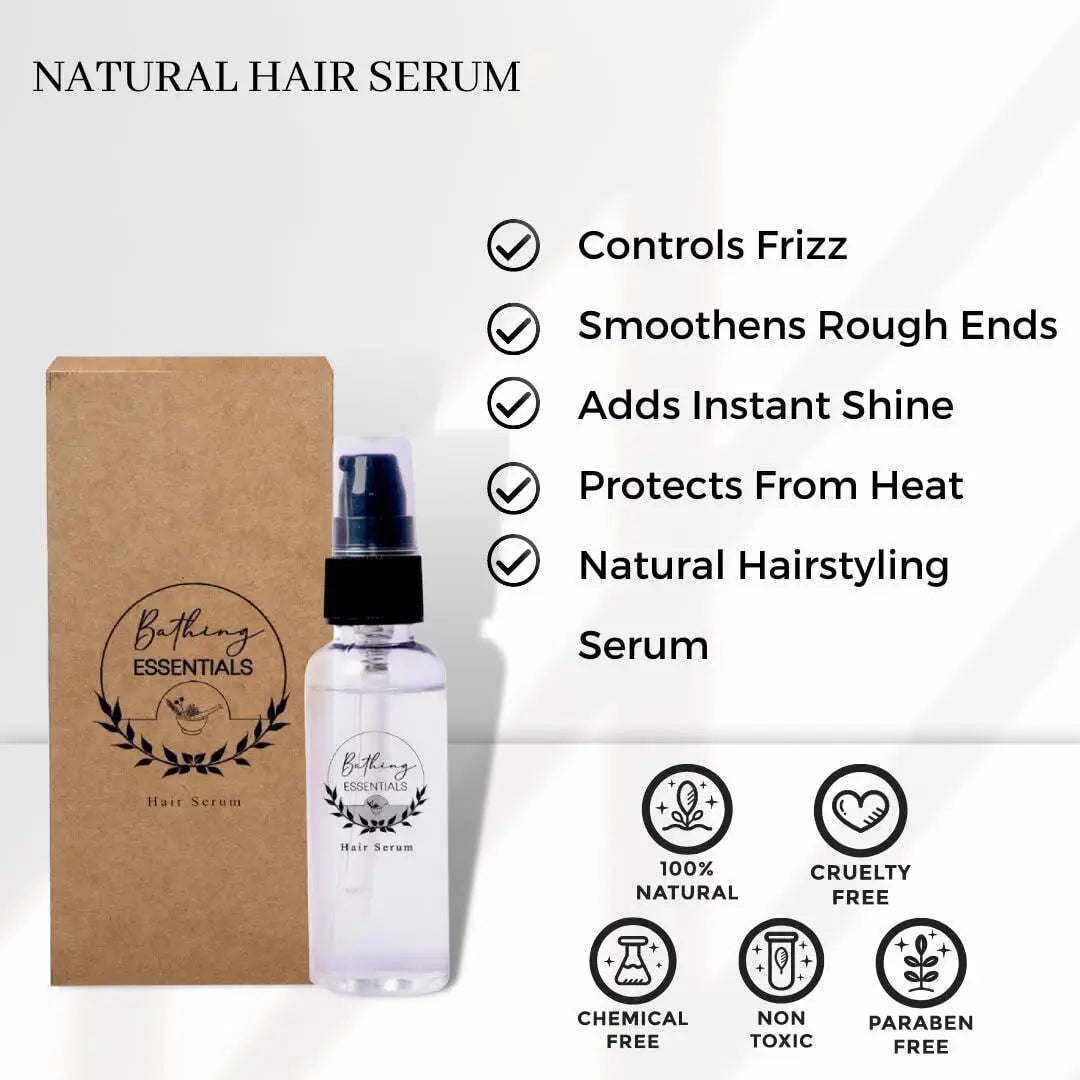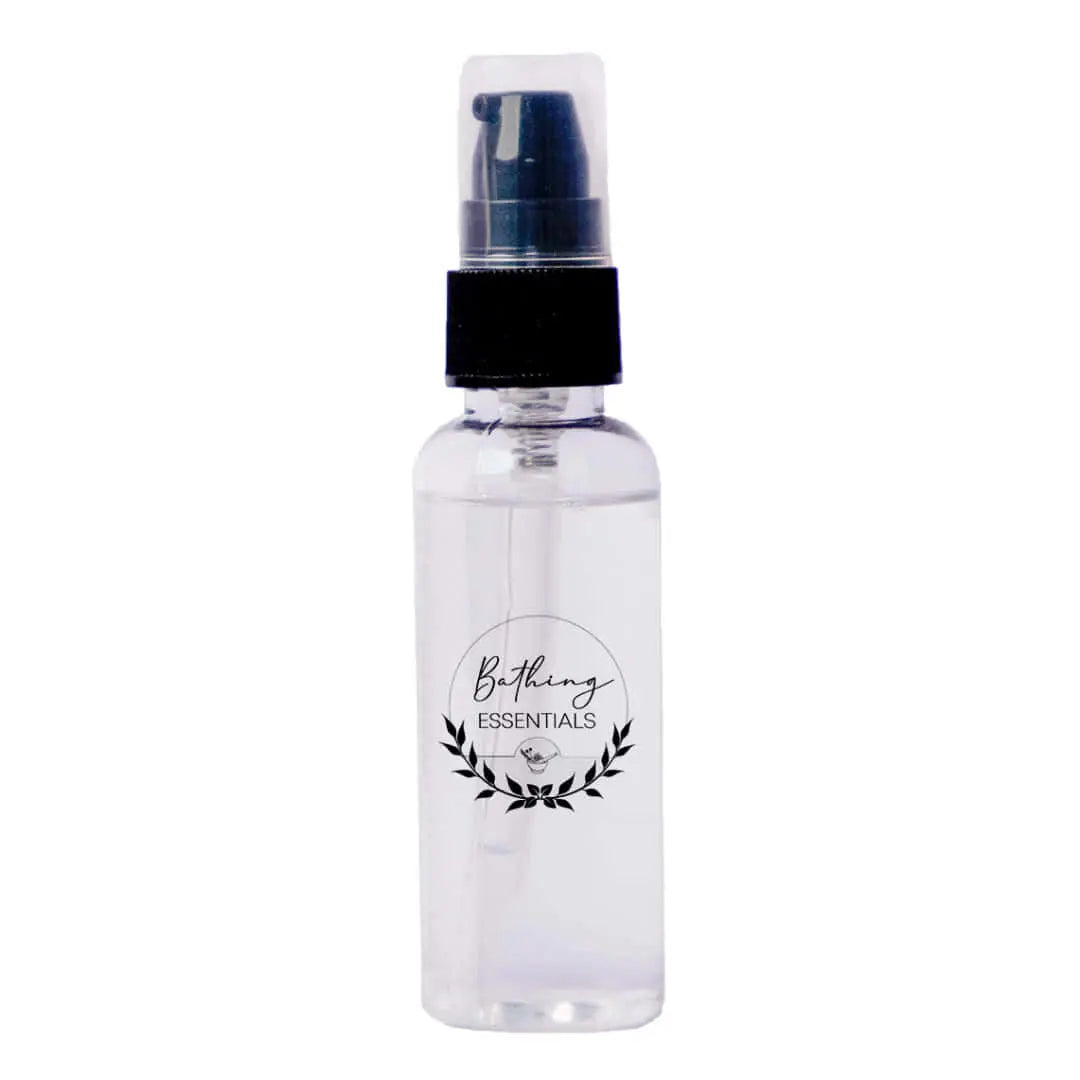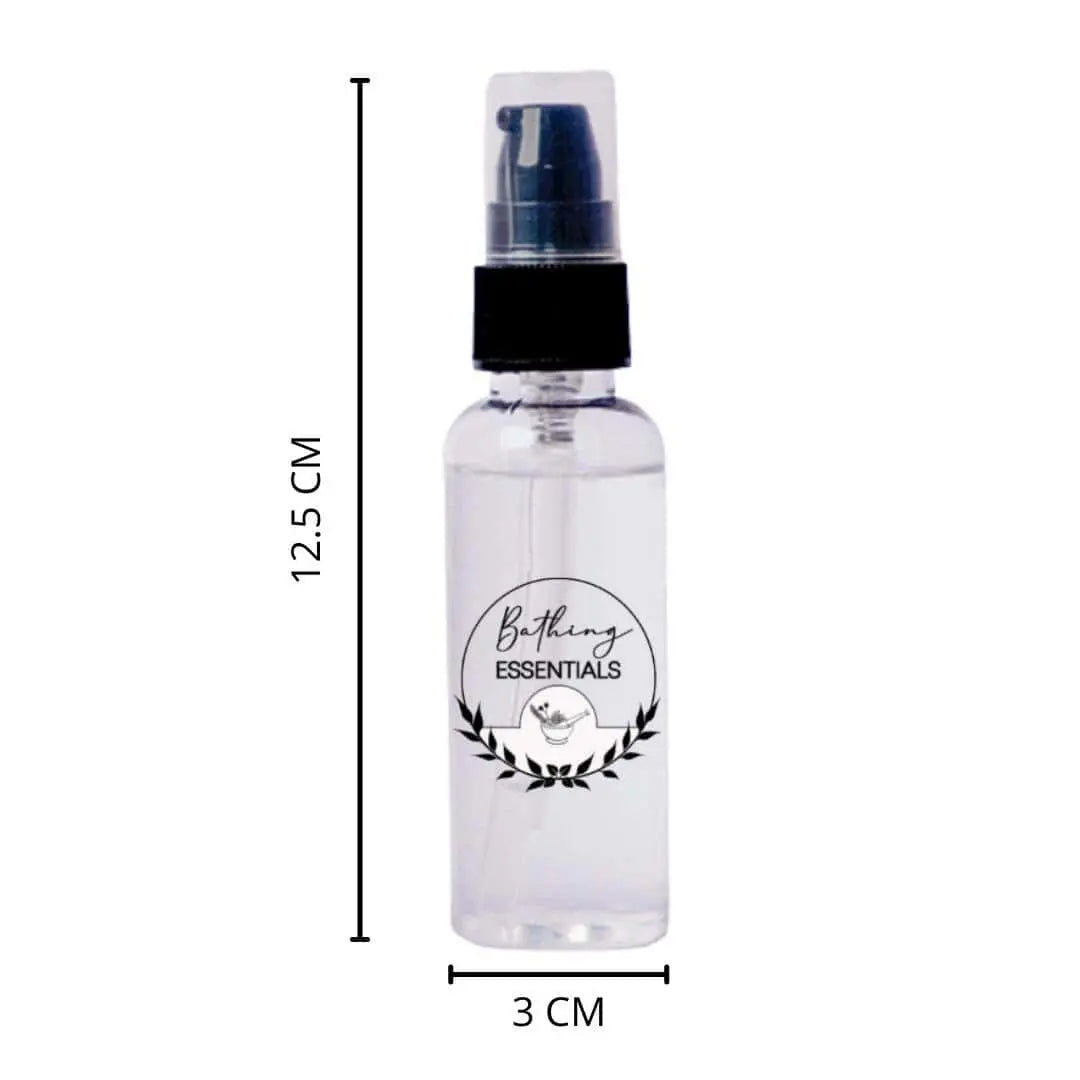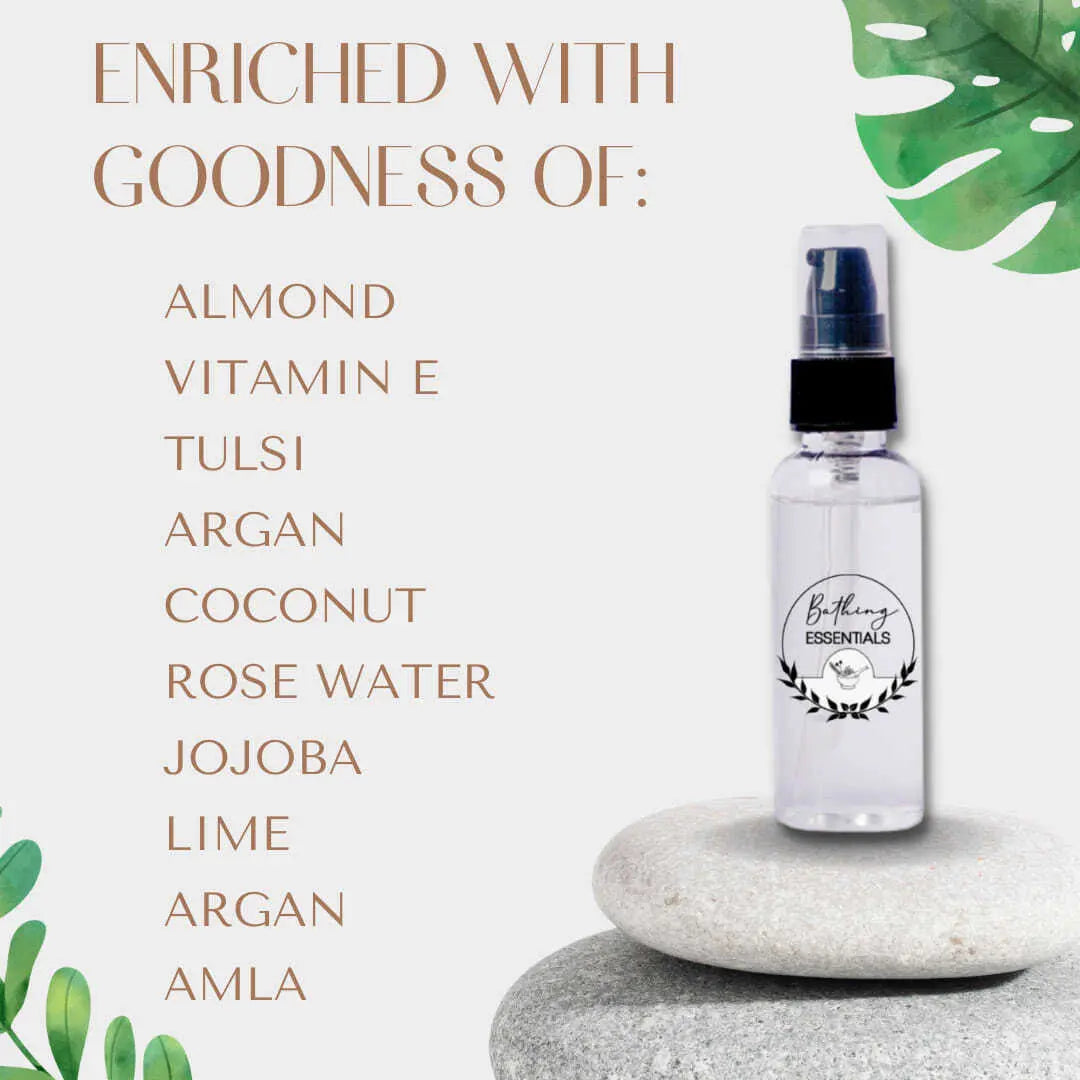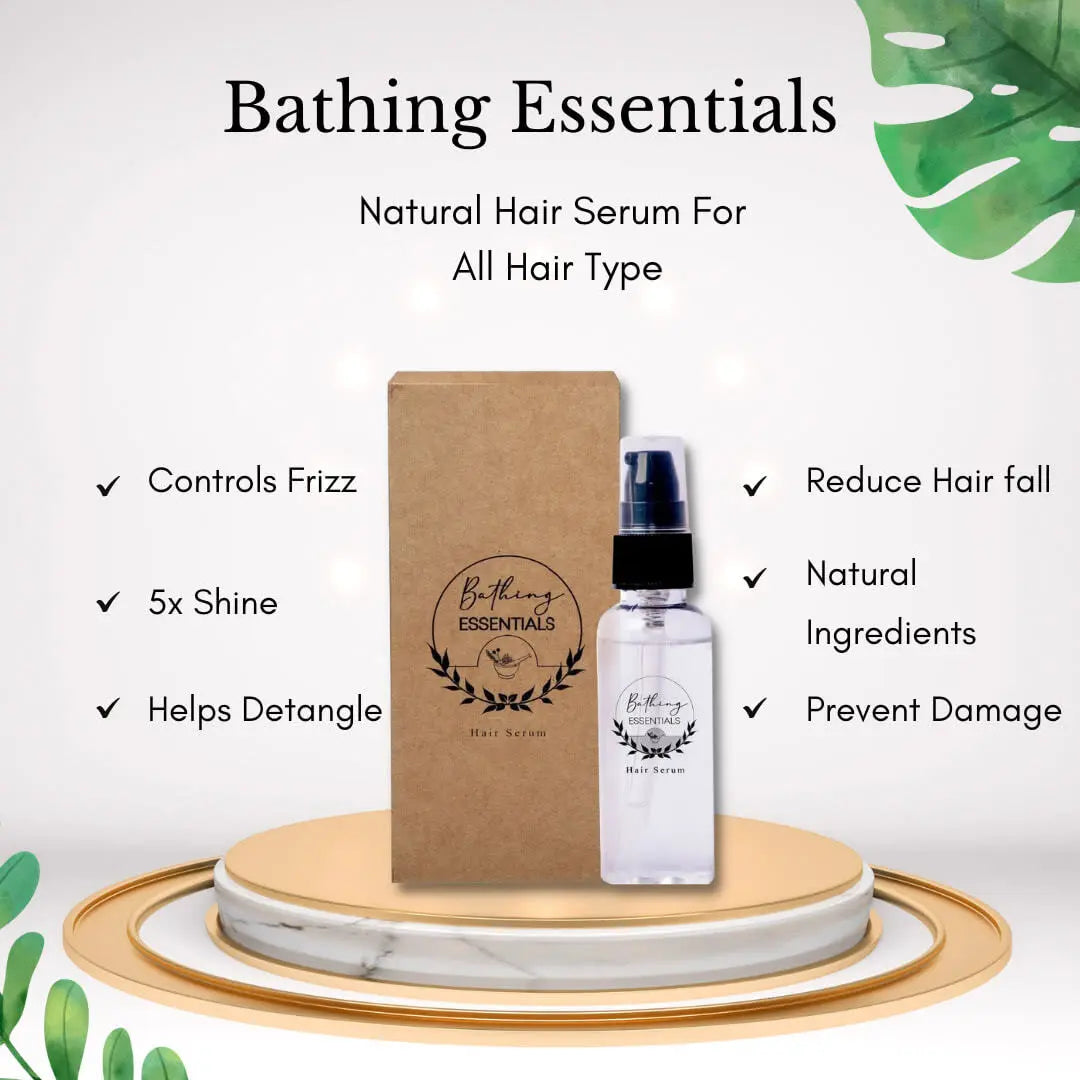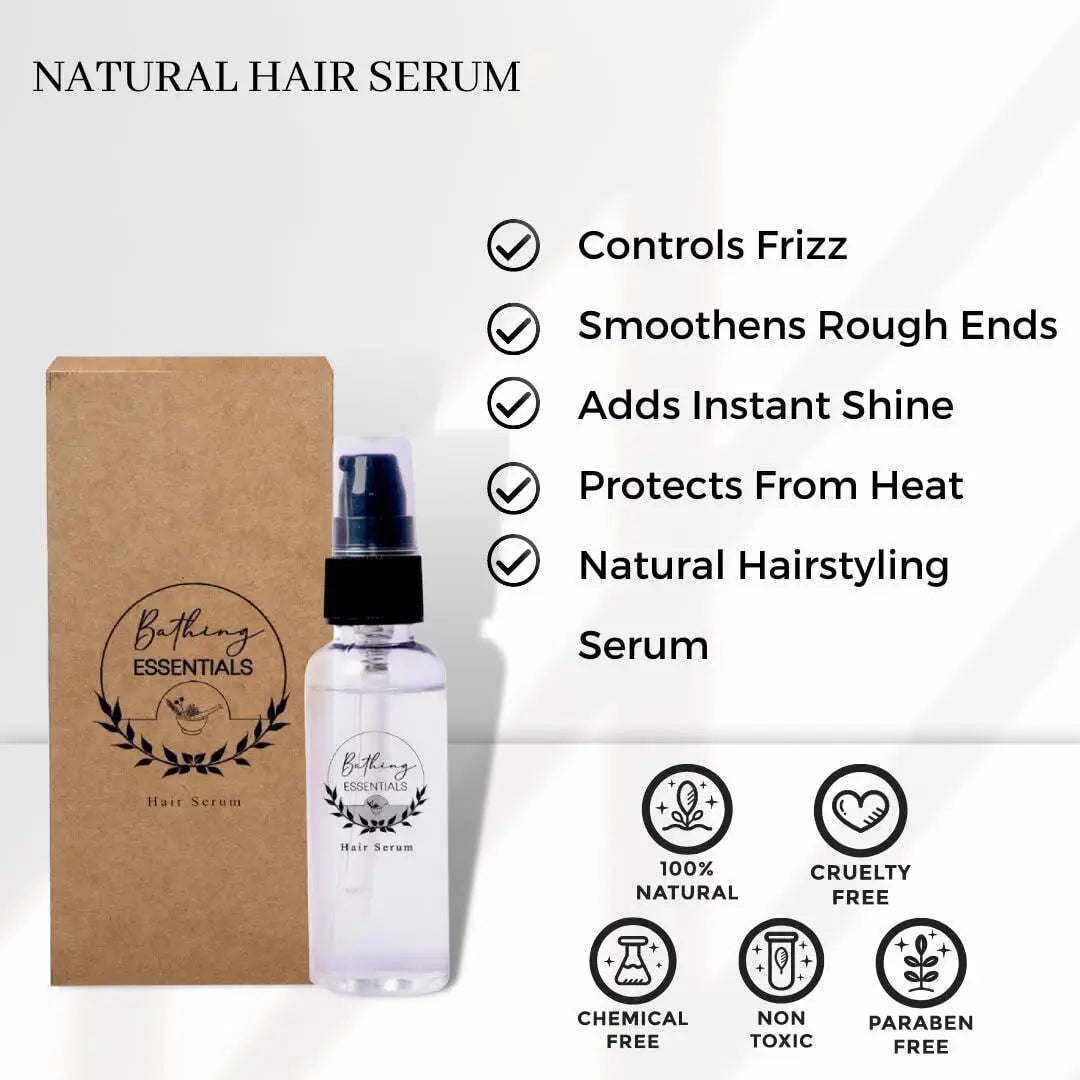 Bathing Essentials Hair Serum — Nourish, Protect and Moisturize your Locks
Chase away all your frizzy hair problems.
Say hello to the final step in your wash routine, ensuring your hair is more hydrated and nourished than ever before.

Bathing Essentials hair serum locks in all the moisture and juicy goodness without weighing your hair down.

Our leave-in serum is formulated to protect your hair from harmful environmental elements and provide a smooth, healthy finish!
Returns/Refunds

The product can be returned within 15 days of delivery.
Key ingredients

Jojoba Oil, Rose Water, Tulsi Oil, Lime Oil, Amla Oil, Vitamin-E, Almond Oil, Argan Oil, Rosemary Oil, Coconut Oil
Who can use?

Suitable for both men and women
How to use?

Step 1 — After shampooing and conditioning, take a small amount of the serum in your hands and apply all over your wet or damp hair.

Step 2 — Now, use your fingers to evenly distribute the product throughout the length of your hair. Always make sure to **never use** the serum on the roots.
Committed to your health & safety
Hit the "Buy now" button

The ordering process of Bathing Essentials serum is super simple. Just click the "Buy Now" button, and then you're good to go!

Get your serum delivered @ your doorstep

Within 48 hours, we ship your hair serum and you get it delivered to your doorstep within 7 days of ordering.

Level up your hair care routine

You start achieving all your hair goals with our serum's gentle formula that's made keeping all your hair care requirements in mind!
Reasons you'll love us!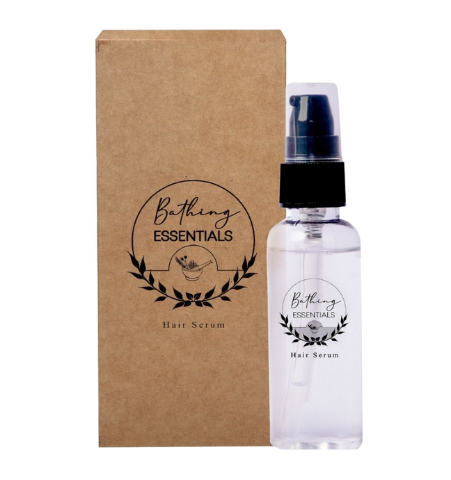 Crafted just for you
Every one of us has a different hair type and struggles with different hair problems.

Our hair serum is made keeping all your requirements in mind: whether you want smoothness, shine and hydration or volume, strength, and color protection, our product has you covered.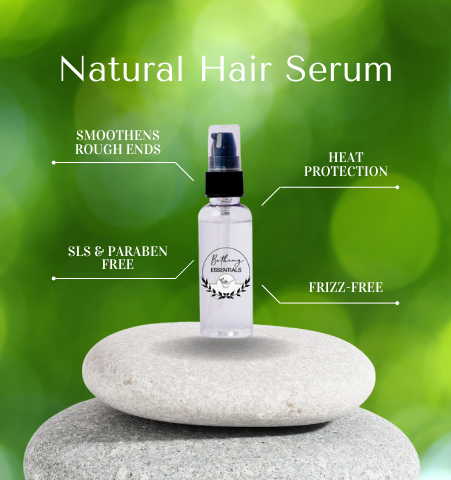 No harmful components
We're super picky with the products we use and we believe beauty should be both safe and natural.

We use special ayurvedic ingredients that nourish your hair but are free of harsh chemicals, strong fragrances, sulfates, and parabens.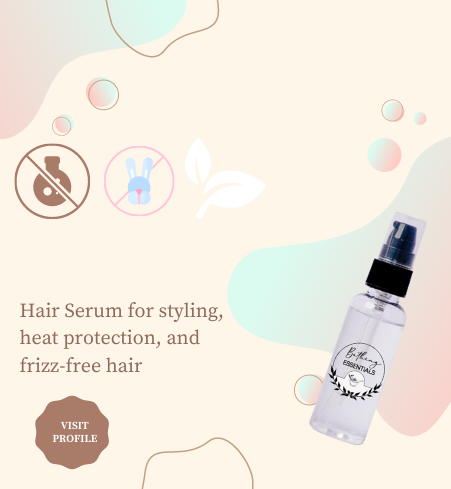 Great for your hair + our nature
We have a greener approach to our products and understand the importance of being eco-friendly.

Our serum is made from 100% natural ingredients to ensure it's gentle on your hair and kind to the planet — making sure you not only have a great hair day but a guilt-free one too.
Elements that make it "Your Essential Hair Serum"
Tulsi Oil

- Rejuvenates the hair follicles
- Strengthens the roots of the hair
- Curbs hair loss

Amla Oil

- Stimulates hair growth,
- Prevent early graying of hair
- Keeps hair parasites away

Vitamin E

- Prevents hair loss
- Improves blood circulation on the scalp
- Adds shine to the hair
Almond Oil

- Softens and smoothens hair
- Treats and Cures flaky scalp
- Strengthens and repairs hair

Jojoba Oil

- Prevents hair loss
- Ditches dandruff
- Protects hair against damage

Rosemary Oil

- Alleviates scalp irritation
- Prevents hair loss
- Strengthens and Promotes hair growth
Some happy reviews from our customers!
Questions? We've got you covered!